As in, I went to work at noon and did nothing but debate work in my office for 4 hours. So I went a little more casual than I usually do.
J Crew Jackie Cardigan in Vibrant Flame
J Crew Perfect Tee
J Crew Minnie Pants
Kelly and Katie Slides
DIY Necklace
(Face courtesy of my husband telling me he was going to watch
Newsroom
later. Please, if I want gross misunderstandings and simplifications of women, I'll talk to Todd Akin. ZING.)
This necklace is a DIY knockoff of the J Crew Seahorse Necklace: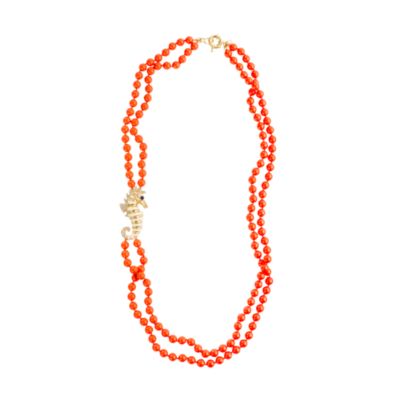 It cost approximately $150 when it first came out and it made it down to the mid $50 range on sale, I believe.
Here's the one I made last week:
I bought 2 seahorse connectors (for $3) and 200 8 mm tomato-red beads (for $8) on etsy. I already had the lobster clasp and bead thread.
There are some differences--my seahorse is silver and lacking the rhinestones the J Crew one sports. But I am actually happier with silver as most of my jewelry is silver, and if I feel the need for some bling I can always bust out some rhinestones and krazy glue and bedazzle away. The other difference is the price--$11 is infinitely more palatable.